SEPTEMBER 2019
Summer fun brings out the crowds!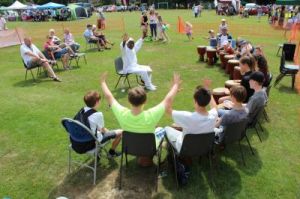 The July 2019 Swanmore fete, organised by the Meon Valley Lions Club, turned out to be one of the most memorable in recent years. The weather was glorious, but not too hot, and the New Road recreation ground was packed from top to bottom with families enjoying themselves.
In addition to the hundreds of Swanmore residents, the event was also brilliantly supported by dozens of classic car and bike owners who brought along their shiny pieces of pride and joy to put on dsplay. As well as some wonderful music from local bands, including the Soberton Strummers and (making a fine debut) the Swanmore Wind Band, there were displays from regular favourites Roynon School of Dance and Kristian Bediako's Djembe Drum workshop.
For the first time, we introduced a dog show to the fete and were overwhelmed with the response, with dogs of all shapes and sizes competing across the handful of interesting and novelty classes. Its popularity means that it's already in the programme for the 2020 fete!
We haven't had the final figures ratified yet, but it looks like our charity account will be around £7,000 better off as a result of everyone's generous support. That's £2,000 better than our previous record. The raffle proved particularly successful with receipts swollen by the extensive prize list with an estimated value in excess of £1,000. Club President Andrew Brown said, "We've organised the Swanmore Fete for many years as part of our commitment to community involvement in the Meon Valley, so when villagers respond so generously and support our charitable work, it's very rewarding."
Roaring trade at The Taste of Wickham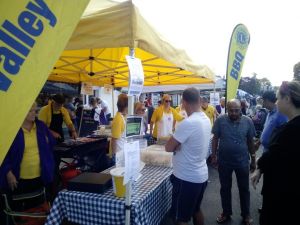 In early September Meon Valley Lions took their BBQ to the Taste of Wickham festival. We had a fantastic day, starting with BBQ bacon butties and then sausages and burgers … the queues didn't stop until mid-afternoon and only then because we sold out. We made approximately £1,400 for local charities, plus this year we collected £120 for the Bahamas, devastated by hurricane Dorian. Our mini-bus was also in constant use running a shuttle service to the parking fields. Thank you to all who gave so generously and for their continued support.