Muscular Dystrophy
Lions and Rotary club together for Jack

Jack Layton, aged four, from Wickham, was diagnosed with muscular dystrophy. His Mum and Dad, Jules and Stuart have since learned that regular physical exercise is an important way to slow the onset of muscular dystrophy, so they decided to purchase a purpose-made trike to help Jack to keep active.
The British engineered trike provides Jack with the freedom and mobility to get to school and travel around the town, whilst the special adaptations allow his parents to steer and control it remotely. Of course, all this technology comes at a cost, so two local volunteer organisations, the Rotary Club of Bishops Waltham and Meon Valley Lions Club, have come forward with a contribution of £500 each, to help provide Jack with his new wheels.
Jack absolutely loves his cool new trike and ironically it's now Jules and Stuart who are finding they are getting all the extra exercise, chasing behind him on the streets of Wickham.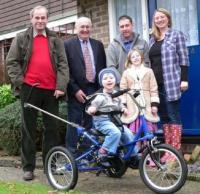 Photograph: Left to Right - John Edwards President, Rotary Club of Bishop's Waltham; Roy Cuthbertson, President Meon Valley Lions Club; Jack Layton and his family Stuart, sister Sydney and Jules.