Winter Fuel Payment Initiative
Do you actually need your winter fuel allowance?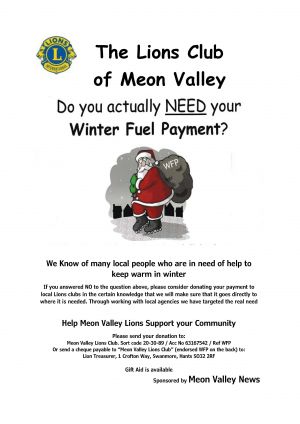 This initiative allows those in the Meon Valley who may not need their Winter Fuel Payment, to donate it to a fund set up by Meon Valley Lions. This fund will enable us to help those who may be having difficulty meeting their fuel bills. This initiative is in partnership with Citizens Advice who will be help us identify those in need of assistance. Alton Lions Club and the Woolmer Forest Lions, covering the Bordon/Whitehill and Liphook area, are also promoting this campaign.
If you feel you wish to participate in this initiative or know someone who is in need of assistance, please contact Meon Valley Lions via our CONTACT page and provide your details so we can get in touch. Or call us on 07443753780.
Also please feel free to let us know of anyone who would benefit from some help. If you know of an individual or family who needs support through a difficult period in their life, maybe need assistance to purchase specialist equipment to overcome disability, or a helping hand for your youngsters on a specific project, we can help in many practical ways. Again, let us know through our web site. Any contact will be confidential.